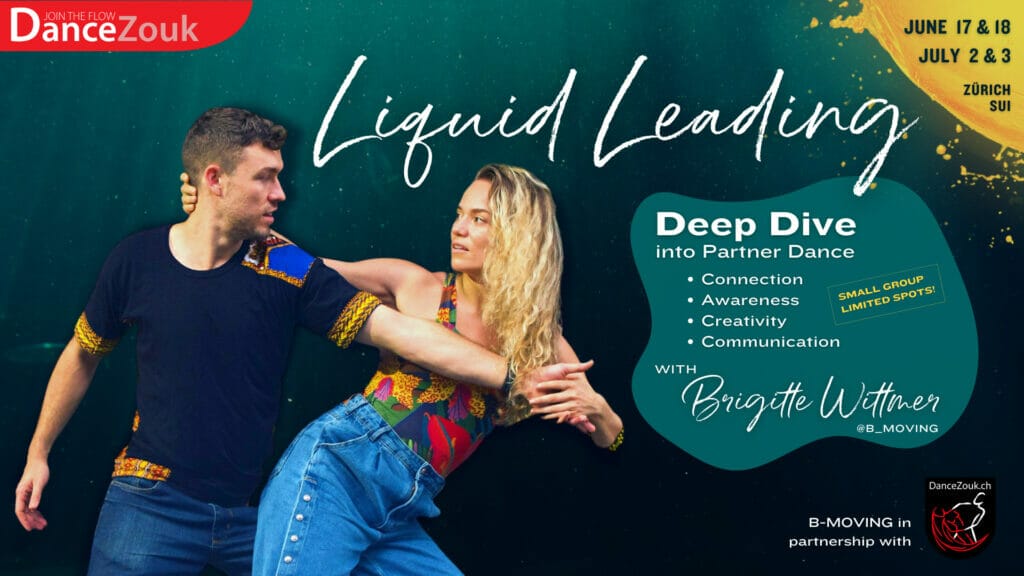 Liquid Leading – Deep Dive 1 – "First Dive"
LIQUID LEADING – DEEP DIVE
We are thrilled to announce the start of our new Liquid Leading Deep Dive series, where you can immerse yourself into the B-Moving Practice of Liquid Leading. Explore dancing as a conversation between equal partners, empower your self-awareness and elevate your understanding of co-influence & co-responsibility in your interactions.
The program consists of several modules and is designed to ensure the best quality experience. Therefore each module will only be open for a small study group of 8-12 participants at once, but open for all partner dance styles. We encourage you to sign up as soon as possible to secure your spot!
As we are aiming for people who like to dive deep into the matter to grow and stay together with us. You will not only receive a certificate of attendance after successful completion of each module, but also have the opportunity to join our interactive coaching group for further exchange and development.
We are excited to bring this unique training opportunity to the dance community and introduce you to the world of Liquid Leading with the first module "First Dive".
This program is open for people from all partner dance styles or movement practices and suitable for all levels of experience!
————————————————————-
Deep Dive "First Dive"
:-: 16 hours intensive classes divided into two weekends to develop
:-: 4+ hours mini-social to practice & connect
:-: Cozy space with max. 12 participants to study and socialize
:-: Welcoming, non-judgemental atmosphere
:-: Plenty time between classes to rest & digest
————————————————————-
Sat. 17. June 2023, 11:00-17:30 (Part 1/4)
STRUCTURE & FLOW
Sun. 18. June 2023, 11:00-17:30 (Part 2/4)
PASSIVE & ACTIVE
Sat. 01. July 2023, 11:00-17:30 (Part 3/4)
CREATIVITY & ARCHETYPE WORK
Sun. 02. July 2023, 11:00-17:30 (Part 4/4)
TENSION VS RELAXATION & DANCE JOURNEY
————————————————————-
BOOKING
All 4 days have to be attended to complete the module and receive the certificate. Therefore, we highly recommend booking the fullpass, but it is possible to book each day separate in case you have a more specific interest. If you are unsure, but you would like to try, we recommend booking the first days structure & flow on Saturday 17th June.
Fullpass: 490chf // Daypass: 129.-
Please contact Eric (+41 79 291 42 02) if you need assistance.
————————————————————-
TOPICS FOR FUTURE EDITIONS
-Enriching Dialog and exploring new ways of communication
-Body conditioning and somatic education
-Therapeutic aspects and applications
-Liquids & Emotions
-Tools for teaching
The B-Moving methodology is constantly developed further to grow it as an encompassing wholesome practice and methodology, capable of improving the quality of your life & work on many different levels.
The Deep Dive series is developed and run in close collaboration with DanceZouk.