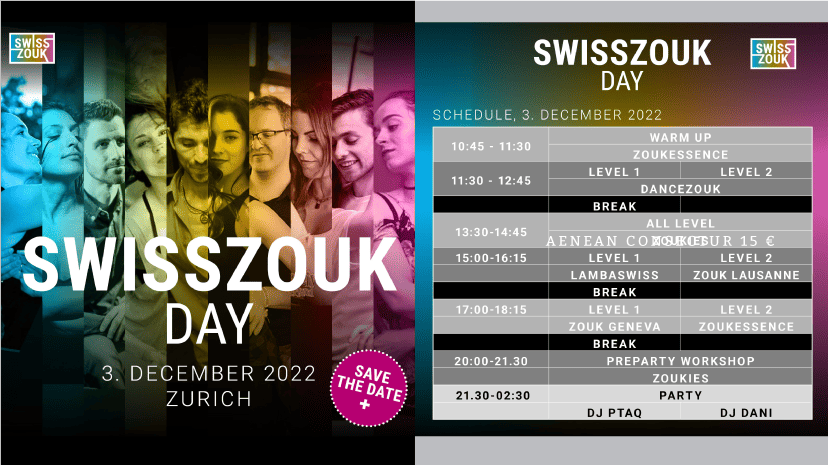 Welcome to SwissZouk Day 2022! Let's celebrate Zouk and enjoy a full day with teachers and dancers from all over Switzerland all together in one beautiful venue!
03. DECEMBER 2022
◊ 9h of workshops with teachers from the 6 swisszouk dance schools. Experience a full day journey through the different approaches and concepts expanding and diversifying your skills and technique of Brazilian Zouk and Lambada. Some workshop hours are divided in two levels, others are open level meant for everyone. But no worries we'll advise on the day.
◊ 5h of party with swiss DJs. Dance your heart out and connect with dancers from other schools and from all over Switzerland.
◊ Unique location at Wandellust, Zollikerstrasse 76, 8008 Zurich.
TICKETS
Until 27.11.22: || Fullpass 130.- || Workshops only 120.- || Party only 20.- || +Dinner (vegan) 15.-
After 27.11.22: || Fullpass 160.- || Workshops only 145.- || Party only 25.- || +Dinner (vegan) 20.-
SWISSZOUK DANCE SCHOOLS
♦ DanceZouk ♦ LambaSwiss ♦ Zoukies ♦ Zoukessence ♦ Zouk Lausanne ♦ Zouk Geneva ♦
We are happy and proud that our six dance schools from all over Switzerland can share, learn and grow together as one community. We are grateful for your trust and support and look forward to celebrate this with you all on this awesome day.
Your SwissZouk Team